Grizzly bear viewing tours
From early May through October, Great Bear Nature Tours offers grizzly bear viewing excursions from Port Hardy to a beautiful river valley on the central coast of British Columbia. Known as the Great Bear Rainforest, this area is one of the best places in the world to observe grizzly (brown) bears and many other forms of wildlife including black bears, wolves and bald eagles.  We are privileged to operate on the traditional lands of the Gwa'sala-'Nakwaxda'xw Nation.
Great Bear Nature Tours is rated by National Geographic Adventure as one of the Best Adventure Travel Companies on Earth. Our ecotourism lodge is the ideal base for photography and wildlife viewing tours, nestled at the mouth of a pristine salmon river. Wilderness-gourmet meals await you upon your return from the two guided viewing sessions per day. With a maximum of eighteen guests, you are assured of a personalised wilderness adventure in this very special area.
Great Bear Nature Tours was fortunate to host the BBC in during the filming of a portion of the "Magical Forest" episode of the "Secrets of our Living Planet" series, which aired on BBC HD and BBC Two. It was a perfect match in philosophy between the theme of the program and Great Bear Nature Tours. While powerful imagery of magnificent grizzly bears is what brings people to us, most leave with a greater understanding of the complex ecosystem which supports the great bear.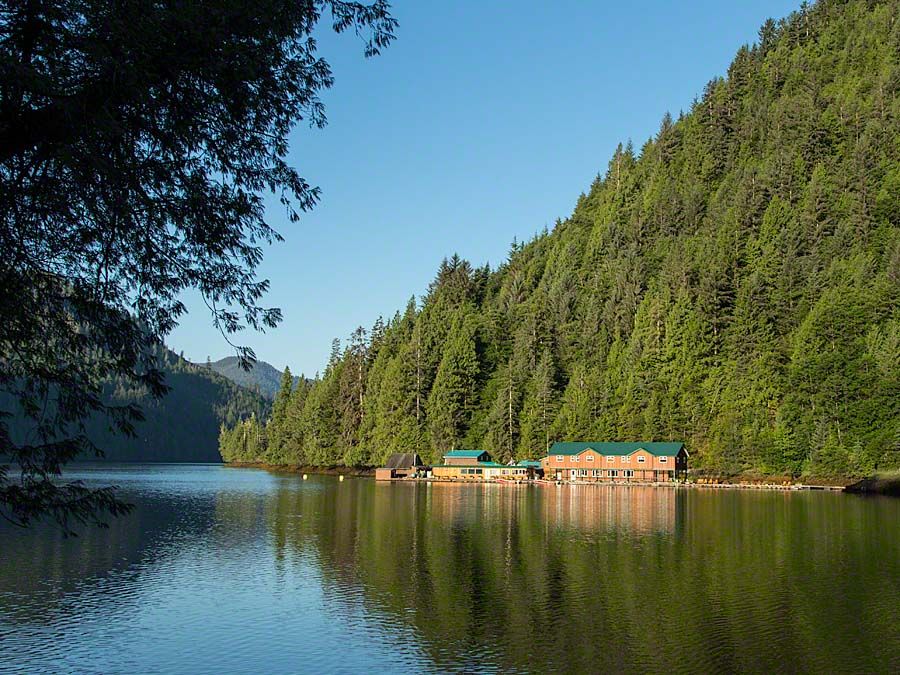 Great Bear Lodge
The Great Bear Rainforest is home to a significant concentration of coastal grizzly bears. During the late summer and early autumn bears are drawn to the many salmon spawning streams feeding into the coastal inlets. While the local bear population reaches its peak in the autumn, during the spring and summer bears feed on sedges, succulents and grasses that make up the dense bio-mass of the river estuary. These ongoing sources of high quality food are why coastal grizzlies or brown bears are larger than inland grizzlies. Click on our bear-viewing page for more information on the bear viewing program, or you can find out more about the Great Bear Lodge.
Explore TV scouted the lodge for themselves, so you can hear all about their experiences.  Great Bear Lodge has been chosen by Destination Canada as a Canadian Signature Experience, providing a unique connection with the geography, wildlife, culture and people of Canada.