Autumn bear watching
The salmon arrive in significant numbers sometime in late August, with their run peaking in September and October. During the salmon run we see the largest number of bears for the year. The salmon run also attracts a great number of bald eagles, gulls, ravens, and other fish eating birds. This is the best season for seeing cubs. The salmon run continues into December, however many bears begin to move towards hibernation by the end of October.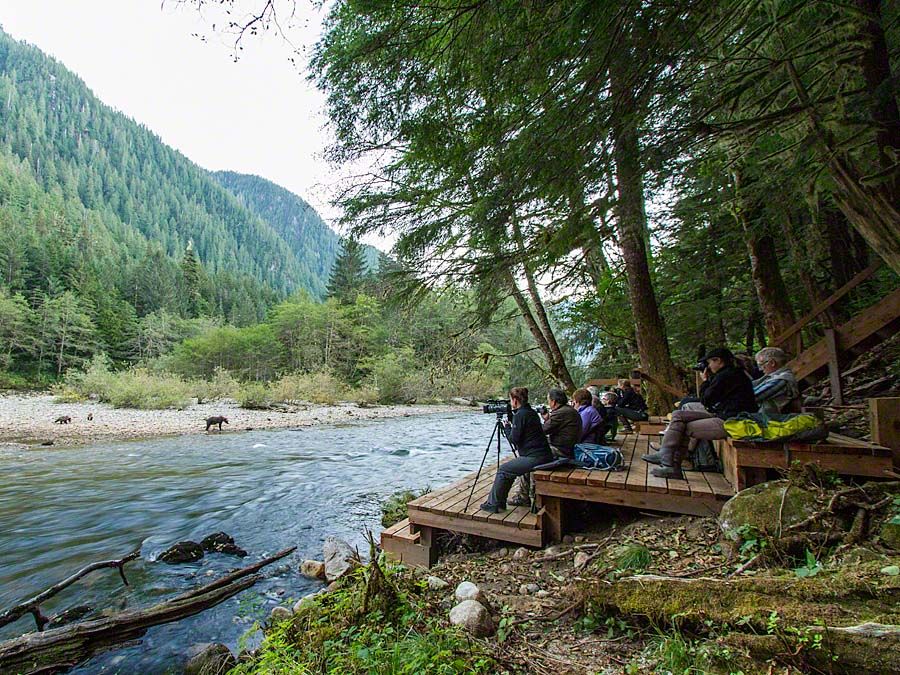 Viewing bears from river blinds
Each person has space in the platforms to set up a tripod in front of them for photography. If your goal is to get good photos, you should plan on using a minimum of 300mm in the 35mm format. Of course, 500-600mm lenses are better. If using digital cameras or video a zoom of 10X or greater will generally give you better photos. Typical viewing distance is 3-100 meters.
There is a possibility that our viewing sessions may move temporarily to boats during the autumn season, depending on the fish and the river.  The fish can be concentrated in the lower river and estuary at times, such as early in the autumn season before rains allow them to travel up the river, or after big rainfalls.
There are five viewing platforms, such as the one above, built at the best fishing spots on the river. They are accessed from the lodge by our school bus, along a wilderness track.  Some platforms are covered to keep you dry during rain, while others are open that you can feel immersed in the rainforest.
Our autumn season runs from August 20 to October 19. If you are interested in joining us for a bear watching tour in another season instead, please check our other page for spring bear watching tours or summer bear watching tours. Click here to view video of our bear tours.