Information for your wildlife tour
Here is some information that will be helpful when planning your stay at Great Bear Lodge.
Please call Great Bear Lodge before 5pm the day before tour departure to reconfirm. Our toll-free number is 1-888-221-8212, and our direct number is (250) 949-9496. At this time, we will give you the exact time and place of departure. The seaplanes normally depart from the Seaplane Base (6420 Hardy Bay Road) or the Port Hardy Airport at 3pm, although you will need to check in earlier. You will be required to sign a waiver to join the trip.
We have limited room available for luggage on our planes, so please plan to leave any excess luggage at our office in Port Hardy. The weight limit is 30 pounds (14 kgs), although of course we will make exceptions for photography equipment. We have duffle bags available at our office in Port Hardy if you would like to repack into one of those.
What to bring
Cameras. Tripods are helpful during the autumn season in the platforms. (Electricity is available at the eco-lodge to recharge batteries, but not for hairdryers!).
Light weight rain jacket. We will provide heavy rain gear for serious downpours, however you might prefer a lighter raincoat if there are just showers. 
Comfortable clothing. There is no dressing for dinner here! Bring some socks that will be comfortable under our rainboots.
Swimsuits, if you are feeling adventurous.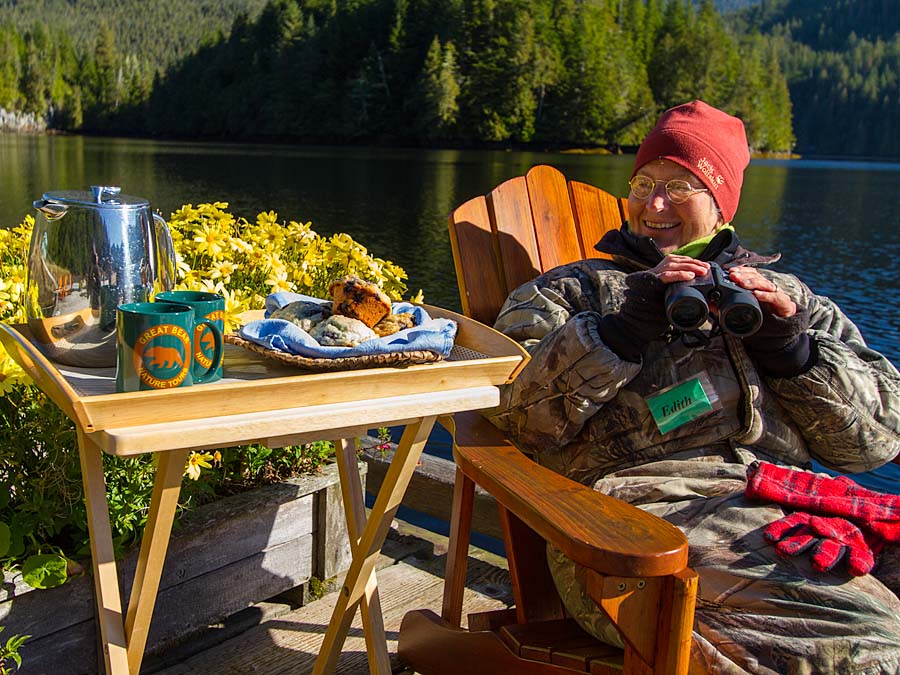 What not to bring
Perfumed toiletries, such as perfumes or colognes. We provide shampoo, conditioner and body wash, as well as sunscreen and bug spray.
Binoculars. We have waterproof Bushnell binoculars for you to use, however you are always welcome to bring you own if you would prefer.
Rain gear: rain pants, heavy rain jacket, rain hat. We live in a rainforest and thus know the raingear that will keep you dry.
Warm clothes: You will be provided with a very attractive pair of insulated coveralls (see photo) to keep you nice and warm, so you won't need any other warm clothes.  We promise!
Warm hat, warm gloves, waterproof gloves, neck warmers. We've got you covered. Literally.
Slippers. If you haven't used Crocs as indoor slippers before, this is your chance!
Flash photography is not advisable as it disturbs the bears. Please ensure that you know how to turn off the flash on your camera.
You will be pleased to know that there is no internet service offered at the lodge, so you will be able to completely disconnect during your trip and immerse yourself in nature.
Our meals are served family-style, so please let us know in advance if you have any dietary restrictions or food allergies.
Your trip is scheduled to return to Port Hardy between 4pm and 6pm, however that can be delayed due to wilderness weather. We include a night in Port Hardy after the tour to avoid any stress if the plane is delayed getting out of the lodge and thus not able to make connections. We provide ground transportation on the day your tour begins and ends, as well as transfers to the airport the day after your tour ends, but you will need to make your own arrangements in Port Hardy outside of those days.
If you have any questions at all, please don't hesitate to contact us. We are always happy to share our local knowledge with you.