Bear Viewing
Two bear viewing sessions are scheduled each day at the lodge, one in the morning and one in the afternoon. We tailor the sessions to the activities of the bears, observing them when they are most active in their chosen habitats. Viewing blinds have been constructed with photographers in mind. They are comfortable and optimal places to shoot from. When the bears move from the river to the estuary, we view them from boats.
Guest safety is of utmost importance and our viewing program is organized using the protocols developed at McNeil River State Game Sanctuary on Alaska's Kenai Peninsula. This management philosophy is consistent with our goal of safely viewing bears in a natural setting while eliminating or minimizing impact on them.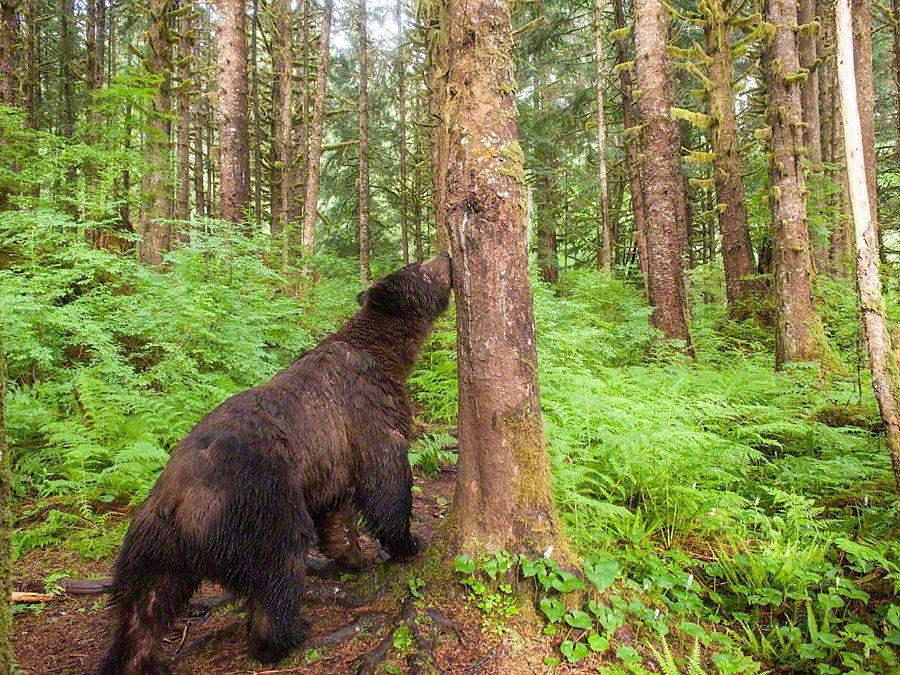 Bear viewing seasons
Each season offers a unique view into the world of grizzly bears in the Great Bear Rainforest. A wonderful time for photography, spring takes us to the estuary to observe the grizzlies as they graze on grasses and sedges and engage in mating behaviour. Birdlife is abundant in spring, and long hours of daylight ensure optimal light for photography. At this time we view the bears from small boats, watching the bears quietly.
During the summer season, the grizzlies move between the various habitats to optimize their feeding. We will find them gorging on berry patches, grazing on estuarine grasslands and scouting for the early salmon.
The grizzly bears congregate at the river in autumn to take advantage of the best food source available on the coast, Pacific salmon, so we see our highest number of bears during autumn. Watch as each individual bear demonstrates its own fishing style, from methodically checking under riverbanks with their paws to charging up the river after salmon.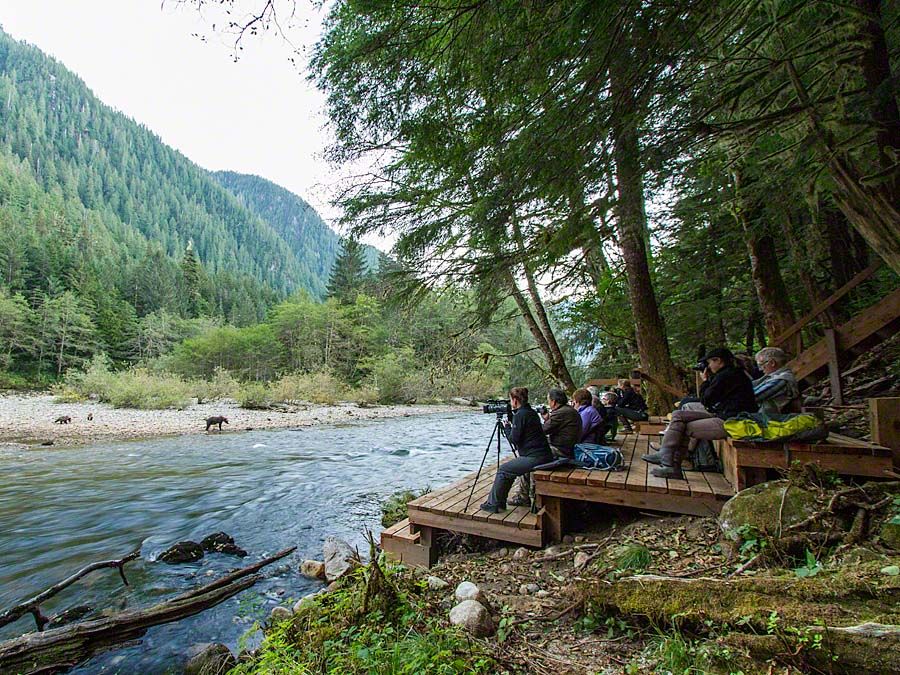 Other wildlife
Along with grizzly bears there is a chance to view other wildlife like wolves, black bears, river otters, pine martens, mink, harbour seals and bald eagles. Bear viewing areas are reached by a boat or bus ride from the lodge, which are opportunities to spot other wildlife in the area. The bear-viewing program has been developed by Great Bear Lodge owner, Tom Rivest (MSc). As a professional guide and wildlife biologist he is well versed in bear behaviour as well as the natural history of this remarkable area.