About Great Bear Lodge
Great Bear Nature Tours has been operating a Grizzly Bear viewing program since 1999. Guiding people into the wilderness is not just a business for us…it is a passion. There is nothing as satisfying as watching the delight on someone's face when they see their first grizzly emerging from the forest. Great Bear Nature Tours is a founder of the Commercial Bear Viewing Association of British Columbia, an organization dedicated to promoting sustainable bear viewing in British Columbia and aiding in the protection of wild bears and their ecosystems. The proud owners of Great Bear Nature Tours are Lloyd and Jackie McGill, Monty McGill, Dan Nowosad, Lance McGill, Brian Reynolds, Marg Leehane and Tom Rivest. Tom and Marg will be your hosts at the lodge along with the friendly staff.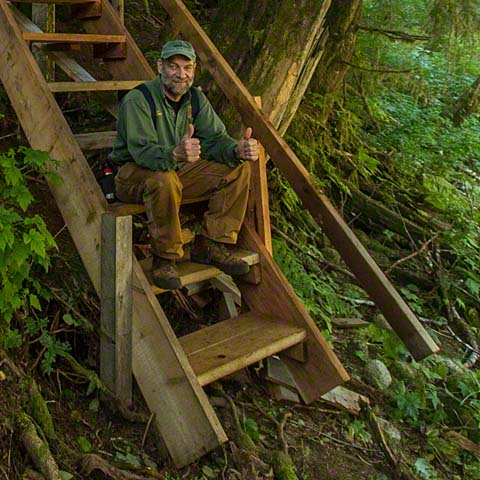 Tom Rivest (MSc)
Tom is an experienced wilderness guide and natural history educator. With a Masters in biology, he is able to share with guests a unique perspective on the bears and their ecosystem. Tom contributed many of the photos on the website, and likes to help his guests get the photo they are looking for.

Marg Leehane (MA)
Marg is your cheerful hostess at the lodge. Originally from Australia, she has traveled extensively and now calls British Columbia home. Margaret worked in the corporate world for a decade before deciding to follow her true passion of being immersed in nature. Margaret completed a Masters in Tourism Management at Royal Roads University.
Why choose Great Bear Lodge?
Great Bear Lodge is the only wildlife viewing operation in our river system, providing a true wilderness experience.
A maximum group size of 16 guests ensures a personalized tour.
All tours are guided by a wildlife biologist.
Enjoy the adventure of a wilderness experience without roughing it: return to the lodge for wilderness-gourmet meals, hot showers and a cozy night's rest.
This spectacular intact ecosytem of the Central Coast of British Columbia is less than an hour flight from Port Hardy.
Great Bear Lodge has been chosen by the Destination Canada as a Canadian Signature Experience, providing a unique connection with the geography, wildlife, culture and people of Canada.

Read guest and media comments to find out more about the experience.